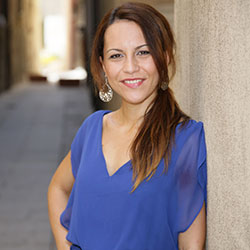 Education
Graduate (J.D. magna cum laude) in 2011 at the University of Cagliari.
She moved to Genoa in 2011 and in the same year started to work for IT Consulting Sas.
Awarded with a diploma in Life and Business Coaching in 2016 at the Xelon Sinergetica. She is now attending for the second year a course of Counseling at Xelon Sinergetica.
Practice description
In MR InternationalLawyers she attends to the management of the office (accounting, data recording, keeping the archives, etc. She coordinates the professionals and organizes trips, reservations and transfers for the practice of the firm.
Personal life outside the job
The passion of Ramona is the well-being of the persons.  She loves dancing and travelling. The sun, the sea and her land (the isle of Sardinia) are and endless source of joy and natural comfort.